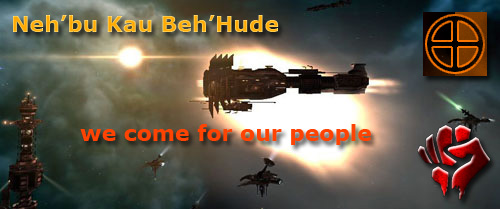 "There is an old legend in my tribe ... a legend of a warrior lord, a wise man who came out of the waste. It is said he traveled from across the void, from the fabled city of the wise.

He took up battle with a mighty serpent, the one they called Neh'but, and this beast he slew. As its life blood spilled forth from its hewn neck he pulled its teeth from its head.

These teeth he cast upon the earth, and where each tooth fell a great warrior arose. These warriors became known among men as the Serpents Teeth, or, as it is said in my tribal tongue, the Neh'bu Kau Beh'hude ..."
- Ibrahim Maatbar, last surviving Elder of the Beh'hude.
Neh'bu Kau Beh'Hude are a combat wing dedicated to the cause of freedom. We shall not rest until slavery is ended.
We come for our people!
About us
The Beh'hude are first and foremost a warrior tribe (PVP). Our primary concern is the abolishment of slavery. We fight for the freedom of the Matari people and to this end we fight an ever present battle against the Amarr oppressors. We value freedom, independence and brotherhood above all else.
We are proud members of the Ushra'Khan alliance and stand as a guerilla fighting force outside the politics of the Republic to achieve our goals. We do what it takes.
* Most of our members are Australasian and US based.
* We have a combat and production arm and welcome pilots of all races, skills and experience to apply.
* We are a role-play based corporation.
* We are members of one of EVE's longest standing and respected role-play alliances.
A good sense of what NKB stands for can be gleaned from
this
thread.
We come for our people!
What we are looking for
Currently we are looking for pilots with combat and/or industrial/logistics experience. Primarily we seek to bolster our US time zone presence, but Australasian and other time zone pilots are also encouraged to apply.
Requirements:
* 15m SP minimum (in combat related and support skills)
* proven killboard history
* 0.0 PvP experience
* self sufficient (you have an independent income stream and don't have to rat/ mission to replace each lost ship)
All warriors contribute to our logistics, all support personnel must be prepared to fight.
Before you apply
Pilots joining Neh'bu Kau Neh'Hude need to be aware that we are in a constant state of war with hostile Amarrian forces. Precautions will be taken to minimise the risk to your daily activities, however there is always a danger that you can lose your ship, or your life, unexpectedly. Pilots who are not willing to accept this risk should not apply.
Who to contact
Please evemail one of the following in game, or drop into our forums at
http://behude.net
and post in the recruitment section.
-Heitaro Kimura / Merrizo, CET (The Netherlands, Europe)
-Tarac Nor/m3rse (AUS)
-GreenSurf - CET
-Black Necris - UTC-04:00
-Legebriril24 - GMT+1 (BST)
From there we will organise an interview.
Death to slavers! Long live the Beh'hude!